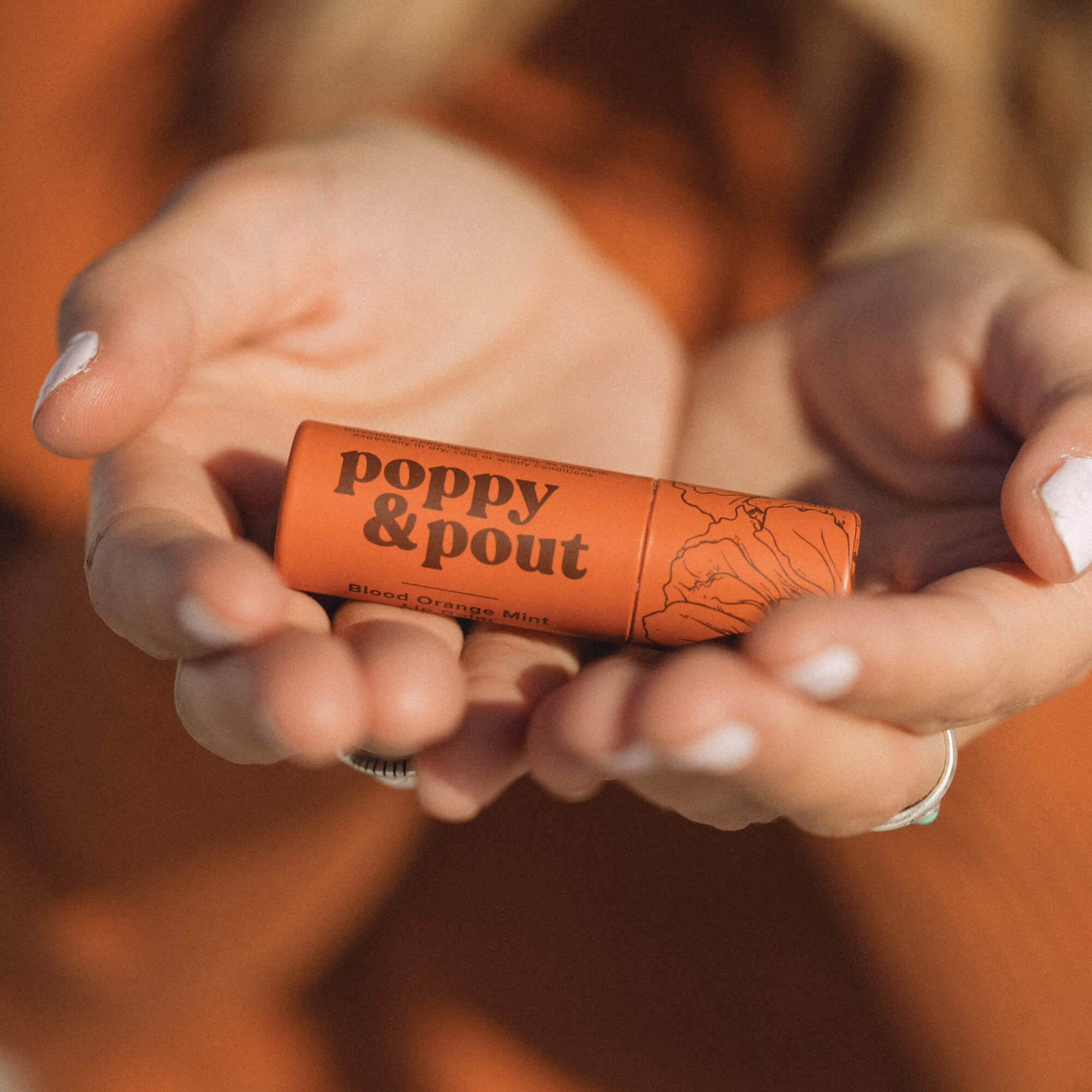 Poppy & Pout Lip Balm
Poppy & Pout's natural lip balm formula is as smooth as can be. Each cardboard tube is filled from the bottom to the top with lip hydrating goodness. Ready for more? Gently push up from the bottom to reveal more of your favorite eco-friendly lip balm. Once you're done, make sure to recycle; these ingredients come straight from Mother Earth, and we like to give right back.
Scent Notes:
Blood Orange Mint: Blood Orange was a good start, but adding a hint of mint made it into the superstar we know and love. Talk about a dream team! Made for citrus lovers with a refreshing minty finish, we just can't get enough.
Island Coconut: Island Coconut lip balm takes you straight to the beach with a breezy, tropical scent and all the hydration your lips need for a day in the sunshine.
Lemon Bloom: Get your zest on with clean and bright Lemon Bloom, a Perfect Petal favorite filled with our signature clean & natural ingredients.
Orange Blossom: Poppy & Pout combined sweet orange oil with a splash of vanilla and just like that…all the nostalgia of an orange creamsicle comes rushing right back. Add some citrus sunshine to your smile.
Pink Grapefruit: Poppy & Pout babes have been a fan of Pink Grapefruit from day one. It's light and fresh, exotic and tart; a totally timeless balm that's a hit with everyone who tries it.
Pomegranate Peach: A little bit sweet, super fruity, and absolutely addicting. Pomegranate Peach is one of those combos that just makes sense.
Sweet Mint: The original Poppy & Pout, the super fresh, can't-go-wrong staple! A classic flavor for anyone who enjoys the minty lip balm variety.  It's truly love at first swipe.
Wild Honey: Wild, earthy, and totally buzzing with fresh-from-the-hive goodness, Poppy & Pout managed to package summertime in a happy yellow tube.
Net Weight .3oz / 8.5g