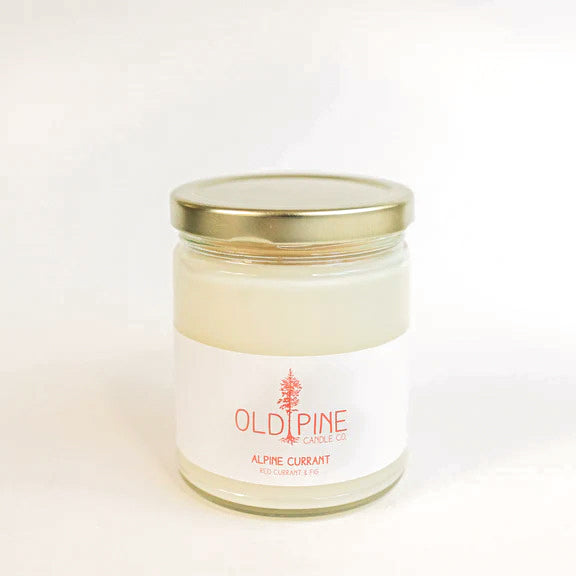 Old Pine Candle Co. Candles
Made in Evergreen, Colorado Old Pine candles are hand-poured with 100% American-grown soy wax for a clean and even burn. We use lead-free cotton wicks and custom blends of premium fragrance oils.
Phthalate-free and paraben-free

Burn time: 45+ hours

Dimensions: 2.9"W x 3.6"H
Scent Notes:
Alpenglow: Amber and Moss. The warm, earthy stillness that puts the world on pause as the sun stretches across the earth to cast its warm glow will help you slow down and reflect.
Alpine Currant: Red Currant and Fig. Foraged from our backyard trails, Alpine Currant bears the fruit of mountain living. A blend of red currant and fig yields notes of bright berry, tart grapefruit, delicate geranium, and grounding fig leaves. This vibrant candle represents the ubiquitous backcountry berry and the hike that takes us to it.
Bluebird Day: Eucalyptus & Jasmine. Bluebird Day represents clear skies and crisp air with the sharp, refreshing, sunny scents of eucalyptus and jasmine.
Evergreen: Blue Spruce. Inspired by the scents radiating from our Evergreen community, this scent will take you to a quiet lakeside morning surrounded by soaring Blue Spruce Pines.
Mountain Meadow: Gardenia, Black Pepper & Bergamot. The sweet floral scent of gardenia with citrus-spicy bergamot and black pepper hits peak summer vibes any time of the year.
New Moon: Sage & Cedarwood. When it's time to reset and refresh. This invisible phase of the moon gives us an opportunity to reflect and set our intentions for the next moon cycle. Sage to heal and cleanse. Cedarwood to comfort and elevate.
Summit: Pine & Citrus. The burn of cold air in your lungs after a long haul through the alpine. Feel rejuvenated and alive with this blend of citrus and pine.
Sundays: Lavender & Vetiver. No reason to panic. This blend of lavender and vetiver will help you stay relaxed, grounded, and get your mind off Monday. You do you.
Wake & Bake: Espresso & Cannabis. Start the day with a relaxing blend of coffee and cannabis. It will mellow out your morning and put you in the perfect mood to cruise through the day.