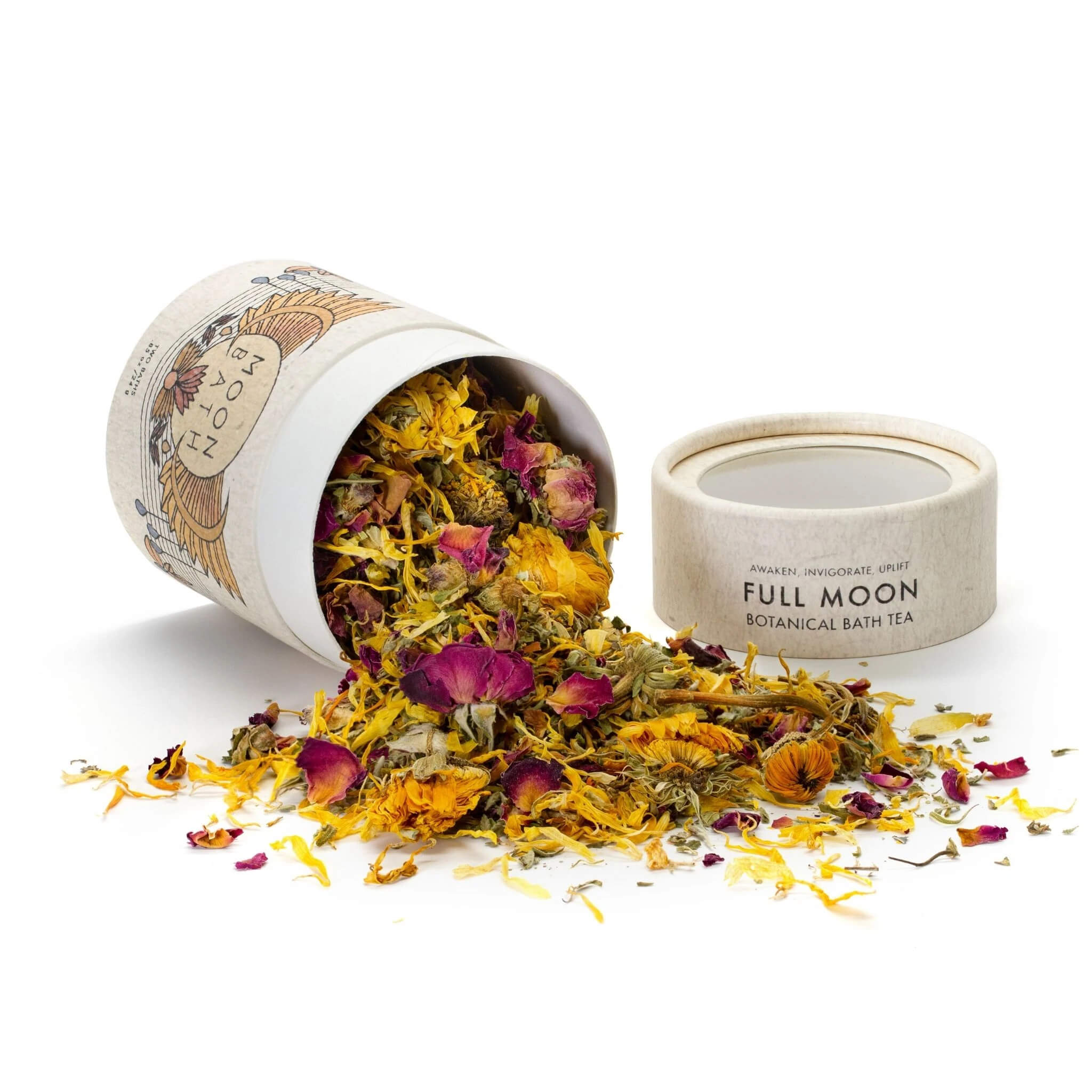 Moon Bath Botanical Bath Tea
Steep 1/2 contents of jar in standard size (34 oz) French press filled with hot water — or on stovetop — for 20 minutes. Strain and pour into bathwater. Immerse yourself, set an intention and tune in to your breath.
Full Moon: The Full Moon is a time of abundance, fertility and light, calling upon us to celebrate and dance in the lunar glow. Enlivening us with bright calendula, delicate rose and invigorating ginger, our Full Moon Bath elicits a sense of hope, abundance, beauty and joy.

Ingredients: Rose Petals, Calendula, Ginger Root, Lemon Peel, Lemon Verbena, Damiana, Shatavari.
Nasty Woman: Nasty Woman is a rally cry that ignites our inner passion for equality and justice, uniting our voices on behalf of the collective well-being. Enjoy this Nasty Woman Bath Tea to be reminded of how powerful, courageous and resilient you are.
Ingredients: Damiana, Lavender, Sunflower, Chrysanthemum, Safflower, Rose, Saffron.
New Moon: The New Moon is a time of rebirth and renewal, calling upon us to tune inward and take rest. Fragrant like a field of lavender and chamomile, our New Moon Bath Tea is deeply calming to the mind, soothing to the physical body, and uplifting to the spirit.
Ingredients: Lavender, Jasmine, Chamomile, Skullcap, Tulsi, and Safflower.
Waning Moon: The Waning Moon is a time to unwind and reflect, calling upon us to let go and release. Starring the fresh aroma of mint and rosemary, and the hues of a desert dawn, our Waning Moon Bath Tea quiets our bodies and minds after the intensity of the Full Moon energy.
Ingredients: Helichrysum, Peppermint, Rosemary, Neem, Red Clover, Mugwort, Heather Flower. 
Waxing Moon: The Waxing Moon is a time of gathering energy and strength, calling upon us to replenish our immunity, sensuality and vitality. Reminiscent of a warm mug of spiced cocoa, our Waxing Moon Bath Tea nourishes the body and soul, encourages stability, and promotes strengthening and regeneration.
Ingredients: Cacao Husks, Cardamom, Fennel, Licorice, Chrysanthemum, Marshmallow, Plantain.
All ingredients are organic, vegan and gluten free.
Two baths / 8 fl oz