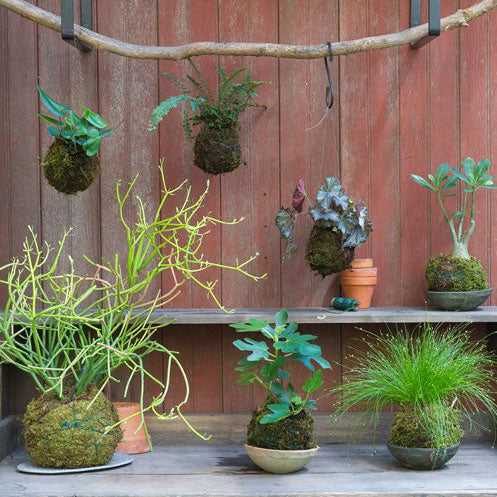 Kokedama Class - January 12
Are you or someone you know looking to get that green thumb plant influencers make look so easy online? We are happily hosting a Kokedama Class this Fall.
This class teaches the Japanese art of Kokedama. Our in-house Plant Specialist will offer an in-depth presentation of creating a beautiful, moss wrapped arrangement that can be displayed on a surface or suspended from the ceiling of your home or work space.
The plant offerings will range from full, medium and low light specimens and will include a plant mister and Care Guide to take home to ensure your Kokedamo ball will remain happy and healthy. These fun and strikingly beautiful arrangements can be displayed vertically on any shelf or countertop, or be suspended from a ceiling right-side-up or upside-down.
This class's approach to plant display will be fun and funky, modern and easy. No experience is necessary nor required; just bring your self and be ready to get your hands dirty. 
This class is great as a gift for a loved one, friend, or yourself. Book for a date night, family outing, girls night out or work event. A minimum of four people are needed to book a private class.
After the class, students will be able to peruse through the shop and enjoy 15% off their entire purchase.
When: January 12th | 6-7:30pm
Where: The Perfect Petal | 3600 W 32nd Ave, Ste. B, Denver CO 80211