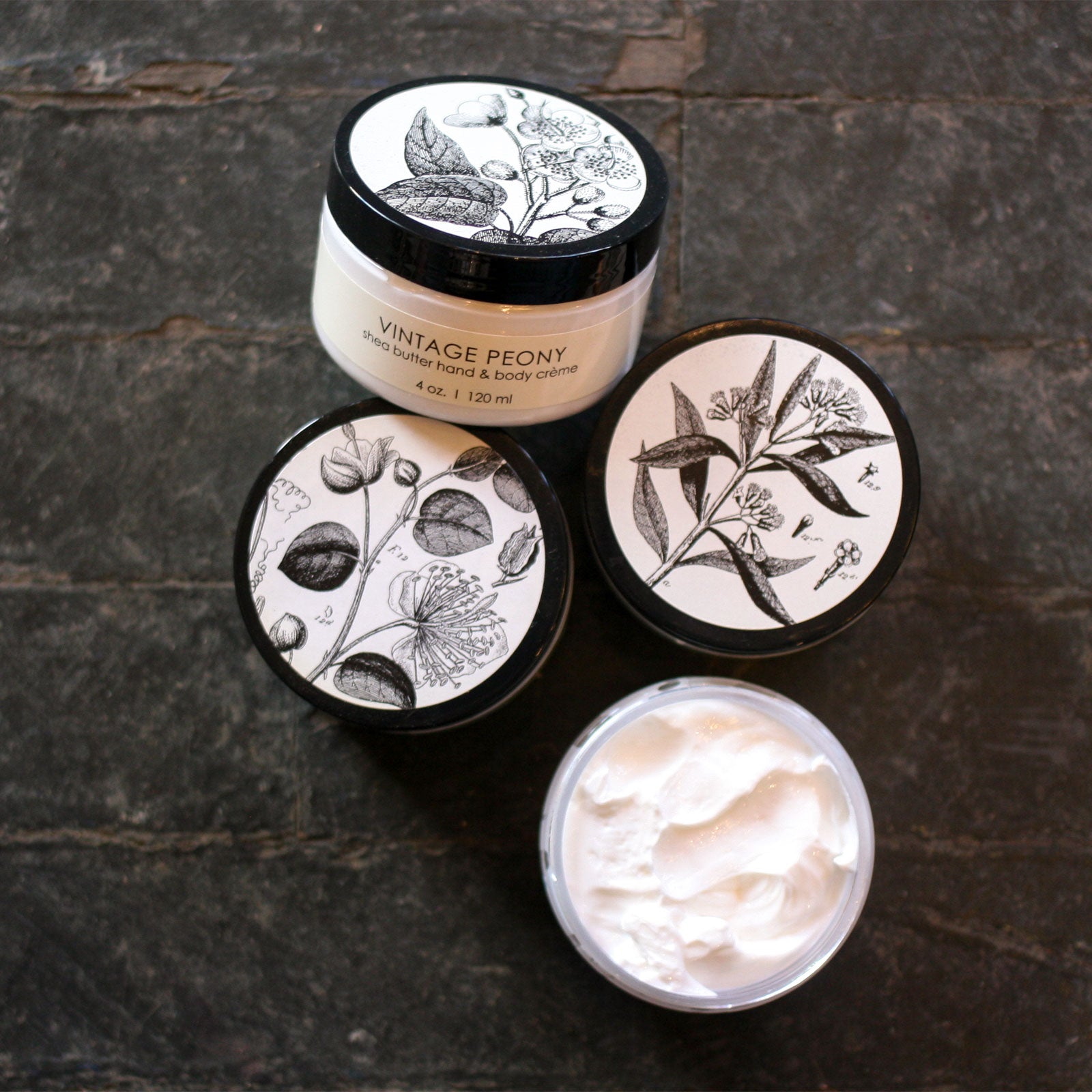 Formulary 55 Hand + Body Creme
Formulary 55's light weight hand creme contains 5% shea butter. It's perfect for anyone who wants a rich moisturizer without a heavy greasy feel. Healing aloe and vitamin E help restore softness and elasticity. The essential oils in this hand creme are blended in unique scents ranging from subtle to invigorating. 4 oz. tub.

Scent Notes
Vintage Peony: A modern classic scent... very feminine. Soft velvety bouquet of bursting peonies delicately laced with violet and honeysuckle and warmed with seductive amber and soft musk. This is a very complex, pretty and popular scent.
Gardenia Blossoms: This fragrance is a traditional gardenia scent with an added touch of lemon.
La Nuit: Formulary 55's La Nuit scent is their most sexy and sultry blend.  Main notes are rich and comforting amber combined with myrrh, vanilla, and Egyptian musk.  They add a French Lavender to the mix to balance some of the sweetness and add a fresh floral depth.  
Sea Salt + Lavender: Like fresh sea air! This perfumed soap combines crisp clean sea spray with the soothing essential oil of lavender.
Bourbon + Vanilla: This scent is great for both men & women. Main notes are Bourbon and Tahitian Vanilla with a hint of Musk and Amber. An all time best seller. Perfect if you like vanilla scents with a little extra "sexy" mixed in.
Apiary No. 55: The scent of milk and honey: clean, sweet, and soothing.  Popular with both men and women, and one of our top sellers.
Clementine + Lime: A very straightforward 100% essential oil blended fragrance that mixes fresh clementine citrus with zesty clean lime.  We suggest this scent for people who don't like a lot of fragrance in their bath & body care.  The aroma is still potent, but very natural and fresh.
Desert Ghost Flower: One of Formulary 55's Southwestern inspired scents, Desert Ghost Flower is a mix of warm sun and sand, amber, prickly pear, sandalwood, dry cedar, and pink ghost flowers. 
Fig Leaf: A tart bite of cranberries and the sweet, mild allure of fig. Cranberries and Figs are made even more striking by adding a smattering of Blood Orange and Pink Grapefruit notes to the mix.
Ocean + Oakmoss: This mix is a blend of spices, orange zest, and fresh sea spray.
Sandalwood + Cedar: Made up of over 6 perfume and essential oils, this scent is a mix of floral, balsamic, soft and sweet accents. It's both earthy and sophisticated.
Sweet Pea + Clover: A delicate floral fragrance, one of the softest and most feminine florals Formulary 55 makes, with a bit of berry and green clover added to the mix.
Aloe Leaf + Mint: The most invigorating, zesty, "clean" scent Formulary 55 makes.  They blend fresh aloe leaf with cooling mint and add a touch of black pepper.  This scent works well as a morning pick-me-up.