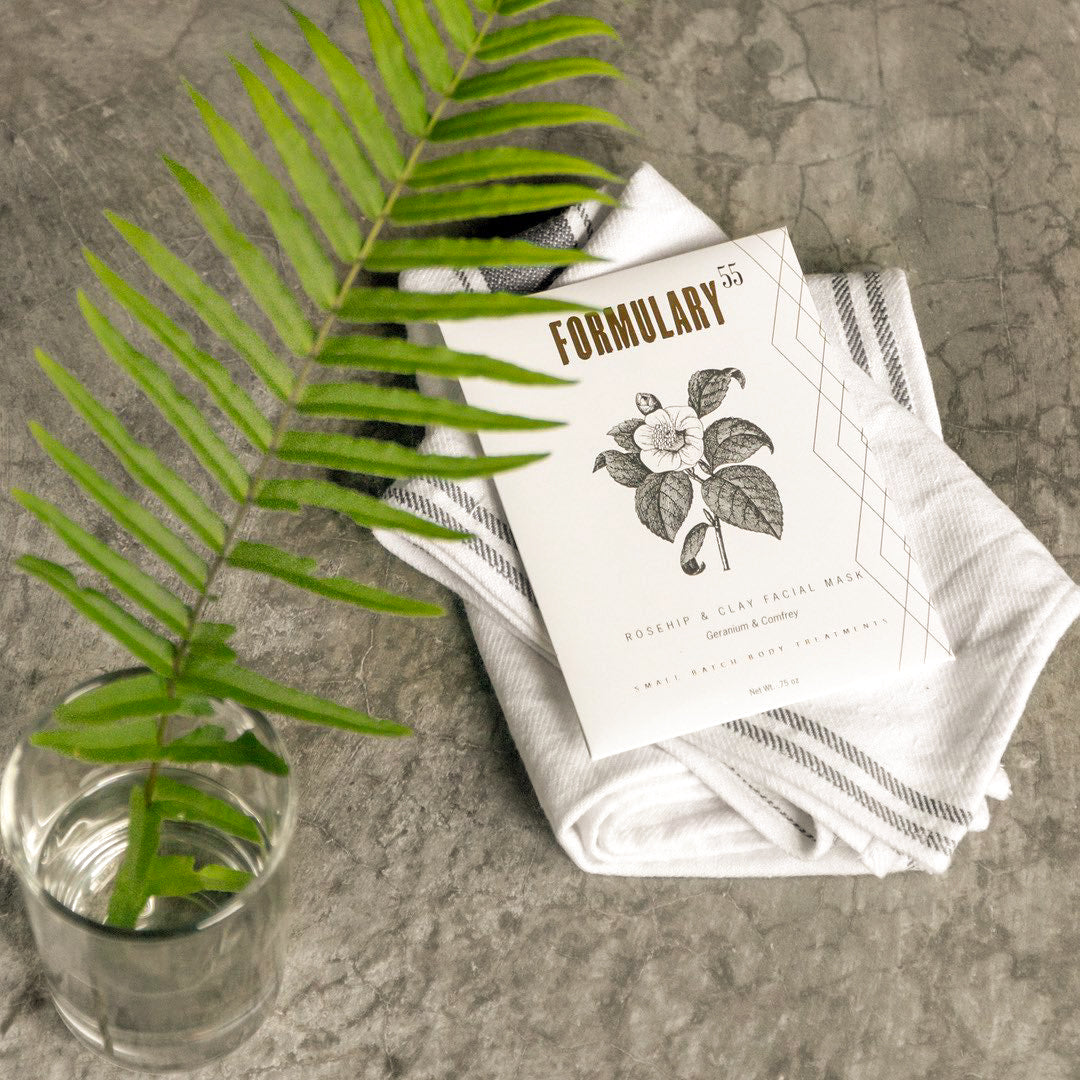 Formulary 55 Face + Body Treatments
Rosehip + Clay Facial Mask
Detoxify and soften naturally with this gentle pink clay facial mask. This blend will draw out toxins without over drying the skin. Suitable for all skin types. 0.75 oz. envelope.
To use: Mix ½ of contents with water to make a paste. Apply to skin and leave for 10-15 minutes then rinse. For exfoliation mask, mix contents as normal, apply to skin in a circular motion for 2-3 minutes then rinse.
Oat Facial Scrub
Organic oat facial scrub with ground oats, orange peel, and powdered walnut. Packaged in a pretty gold leaf botanical envelope....perfect for gift giving.  0.75 oz. envelope.
Add enough water to make a paste and apply to face using upward and outward strokes (you can also add a touch to your daily cleanser). Massage with your fingertips in small circular motions. Rinse your skin and pat dry. Admire your beauty!
Botanical Facial Steam
An organic blend of herbs and flowers designed to boost circulation and encourage natural skin healing.  Aromatic, moisturizing, calming, and toning.  Use after cleansing and before moisturizing.  Single use .25 oz envelope.
To use, toss packet into a heat proof bowl, cover with 3 cups of boiling water.  Drape a towel over your head and enclose face over the bowl.  Relax and breathe in the steam for 10-15 minutes.  Follow with a cool water rinse. 
Sea Clay Body Mask
An all over detoxifying body treatment mask that is especially effective on the neck, back, and decolletage.  Designed to tone, treat, and tighten; this purifying body mask removes impurities, pollutants and excess oils without stripping the skin.
To use: Mix 1/2 of a packet with water.  Apply a thin layer over damp skin and allow to dry.  Leave on for 10-20 minutes then rinse off with warm water.  Mask can also be used as a facial or spot treatment for those with oily complexions.
Sea Mineral Body Polish
Detoxify your skin and refresh your senses with this therapeutic blend of salts and pure essential oils. Single use 1.5 oz. envelope.
To use, combine contents of packet with water to make a paste, apply to skin, scrub, and rinse. For an extra moisturizing boost, mix body polish scrub with 2 T. coconut or olive oil instead of water.
Sea Mineral Foot Soak
Perfect for tired feet, this fizzing foot soak is a wonderful way to end a long day. This peppermint and eucalyptus effervescent foot soak is made with pure essential oils and Dead Sea mineral salts. 1.5 oz. envelope.
To use, fill a small wash tub with water, drop in contents of envelope (each packet contains enough for 1-2 treatments), and soak your feet in the detoxifying blend.
Made in Colorado