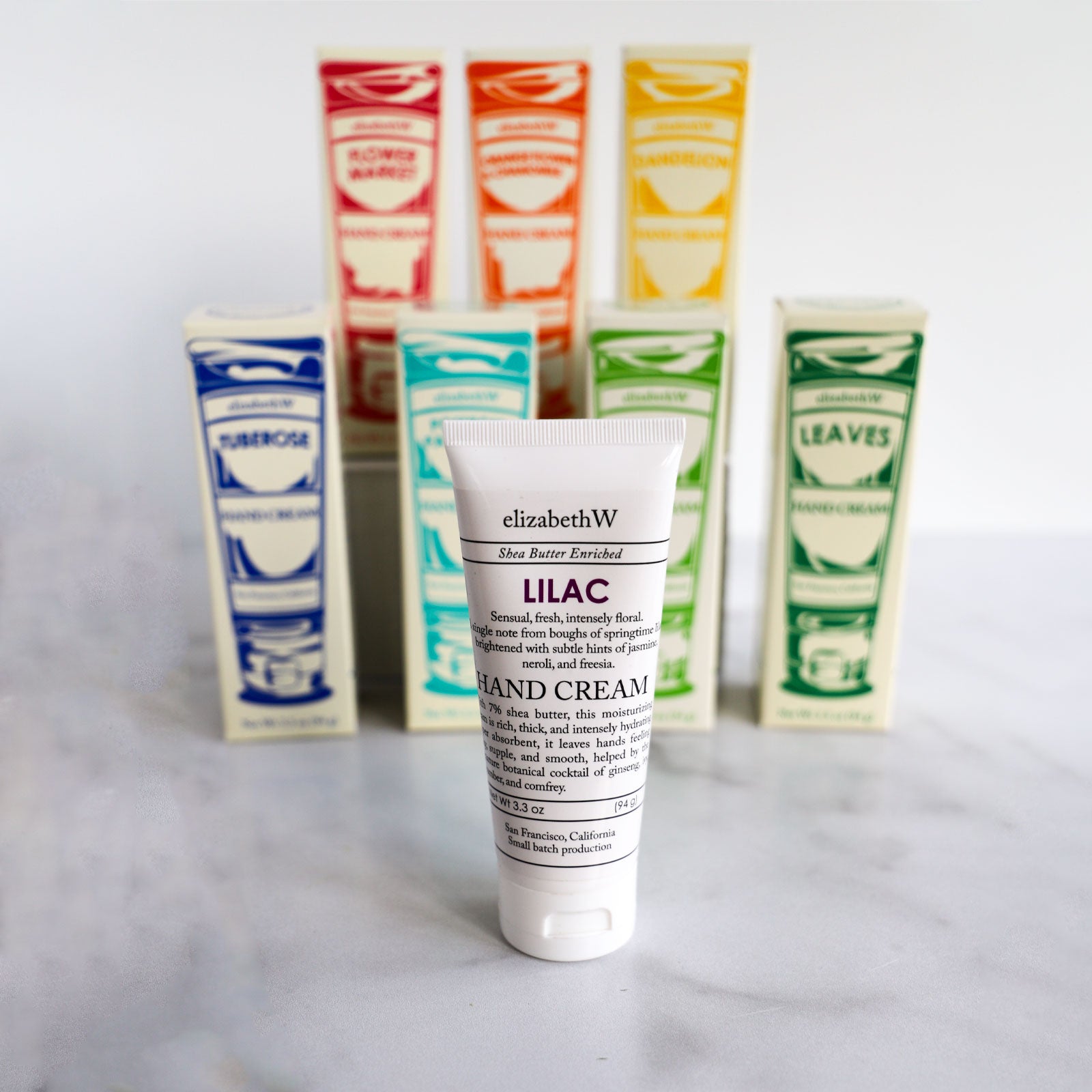 elizabethW Small Batch Hand Cream
Made with 7% shea butter, this hand cream is intensely hydrating with its signature botanical cocktail of ginseng, ivy, cucumber, and comfrey. Take it with you as it's sized to travel. Fortify your hands with a silky surge of moisture wherever needed, day or night.
Net wt 3.3 oz  / Made in the USA.
Scent Notes:
Dandelion: Flower-crowned memories of picking golden dandelion on a warm summer's night. A gentle breeze and the drifting, carefree scent of wildflower honey, clover, and soft grass.
Flower Market: Cosmopolitan, alluring, vibrant. Open air market stalls brimming with sweet violets, pink jasmine, and cyclamen. Notes of lemon zest and bergamot balance this urban bouquet.
Leaves: Fresh, evocative, clean. A soft, woody base of Atlas cedar and sandalwood balances amber with green, leafy top notes.
Lilac: Sensual, fresh, intensely floral. A single note from boughs of springtime lilacs brightened with subtle hints of jasmine, neroli, and freesia.
Lime: Vibrant, striking, sweetly tropical. A clean burst of fresh greenery balances sugary citrus and tangy sharpness in this most uplifting scent.
Orange Flower Chamomile: Nurturing, tranquil, softly soothing. A floral bouquet of orange flowers, ylang ylang and iris extracts, enlivened by the rich balsamic notes of Roman chamomile.
Pom Pom Patchouli: Bohemian, sultry, opulent. Top notes of softly sweet vanilla and black currant embrace a base of woody patchouli and dark chocolate to create a rich, sumptuous, ultimately exotic fragrance.
Tuberose: A lasting floral, a compelling, classic bouquet. A richly sweet, heady aroma, accented by gardenia, jasmine, warm amber, and orange flower.