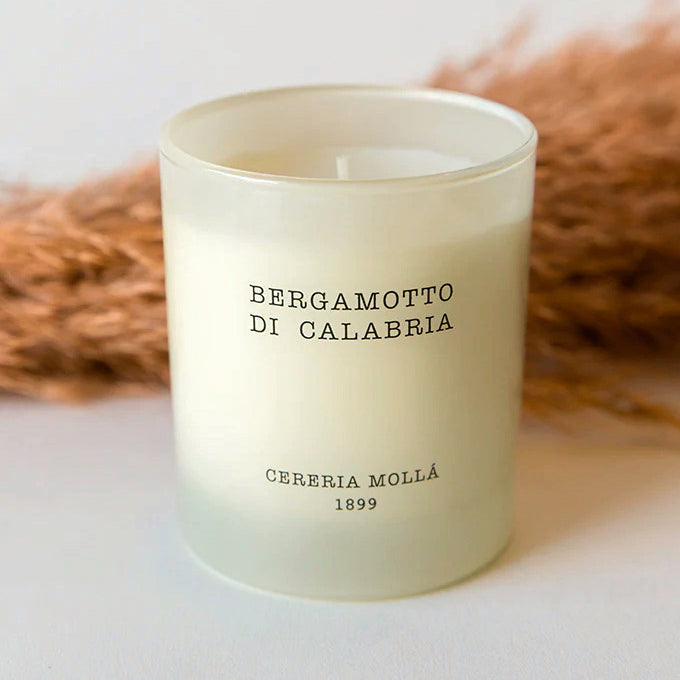 Cerería Mollá Boutique Candle
Cerería Mollá knows how to create quality handmade collections where you can find a wide range of products and aromas that will excite you.
Scent Notes:
Bergamotto di Calabria: Warm Mysore Sandalwood combined with the vigorous freshness of Bergamotto di Calibria lends nuances of cardamon and lemon that transport you to the Mediterranean island.
Provence Lavender: Fields of Provence Lavender in harmonious mixture with the freshness of lemongrass. The lavender known as "Blue Gold" evokes nature with green and citric touches of lemongrass.
French Linen: A comforting fragrance with a touch of citric at the beginning and a heart of lillies, peonies and freshly cut fressia flowers.
Tea & Lemongrass: A fragrance with "green and aromatics" characteristics. Lemongrass, also known as "lemon herb" from the West Indies, creates a lively atmosphere with the perfect combination of tea.
Amber & Sandalwood: Spicy aromatic essence with a fresh citric start, accompanied by the persistant sandalwood and combined with a background of sweet musky scent and a slight touch of woods, perfect to sweeten every ambience in your house.
Basil & Mandarin: Fragrance that brings an energetic harmony mixture of lemon, lime and tangerine citric notes, accompanied by a prevailing floral scent of ivy and white jasmine, with a seductive final thanks to their original woody notes.
Velvet Wood: Explosive combination of spicy and aromatic notes where the spices fuse with lavender to achieve an extreme and deep mixture. The tobacco contributes masculinity to the composition. The vanilla smoothens the notes of tobacco and they add a comfortable aspect to the fragrance.
Black Orchid & Lily: Complex fragrance that captivates with its green notes and its fruits full of naturalness. A spicy combination with a base composed of musk and woody notes, providing an elegant touch to the fragrance.
Bulgarian Rose & Oud: Fragrance of sweet floral aroma. The dark rose of damascus, rich and velvety, wrapped in smoked oud wood.